LOOK OF THE DAY: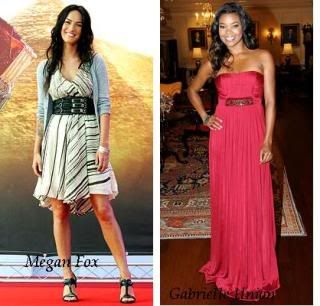 Megan Fox- WHAT SHE WORE: A striped chiffon dress cinched at the waist with a wide belt and topped with a gray cardigan
Gabrielle Union- WHAT SHE WORE: A draped chiffon gown in hot pink
"FAUXMOSEXUALS"... really?! Well these pretending to be (ahem)BI Celebrity is desperate for attention... from lies, scandal, and whatever you name it for a free exchange in the Headlines of the Paparazzi Let's see who made my list:
She is my least fav artist- my #1 pick: Katy Perry- "I kissed a girl"
She said she has done "lots of experimenting with women" even thought she is now married: Fergie (B.E.P.) Then there's Lindsay Lohan, the train wreck(I still digg her style though). Next, is Tila, not my favorite person-- The girl is just confused with her show aired "A Shot at Love," I just think she's fake but that's my opinion...so anywho....and don't forget former member of Danity Kane-Aubrey O'Day, then there's Amber Rose(she is a beauty) and Lady Gaga who just joined the gang. Either that they need credibility or stats, they recieved an award.
Shia LaBeouf on actors, and his unorthodox childhood - he grew up in poverty in LA's Echo Park neighborhood, his "hippie" parents who exposed him early to adult material.
"I think acting is a con game," Shia told Parade Magazine in its June 14 issue. "I don't understand what it is I do that people want. I don't know what an actor does. To my mind, talent doesn't really exist."
"The good actors are all screwed up," he said. "They're all in pain. It's a profession of bottom-feeders and broken people."
"Seeing my parents have sex, smoke weed, my mom being naked - just weird stuff," he told Parade.
I remember him on Disney Channel's "Even Stevens" and I always thought this kid will make it big, and at 23, he is on the rise in big films such as "Indiana Jones and the Kingdom of the Crystal Skull" and headlining "Transformers," "Disturbia" and "Eagle Eye."(my favorite flick) The "Transformers" sequel, "Revenge of the Fallen," is due on June 24.
I'm so inlove with this HOT Kicks!
The Dynasty Leather returns in a black and white leather upper with a bulky swoosh and white heel. The detachable strap provides backup support for the high top upper while the nylon tongue cushions the foot.
(spring 2010)
JD wasn't lying about forming a group called "Ocean's 7" featuring Bryan-Michael Cox, Jermaine Dupri, Johnta Austin, Nelly, Trey Songz, & Usher.
I listen to some of the tracks and its pretty confident, somewhat cocky or gratification, it's a joy ride of manhood.
Track List:
"Intro"
"Aint I"
"Diddy Skit"
"Too Much Swag"
"I Need That Girl"
"Where's The Love"
"Owe Me Sex"
"It's Amazing"
"Day and Night"
"Vegas Is Our Town"
"Vegas Baby"
LOOK OF THE DAY:09JUN- I'M A LIL BEHIND...SORRY YLL.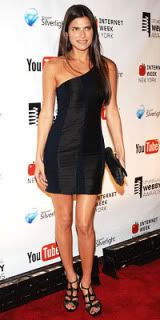 Lake Bell-WHAT SHE WORE: A single-shoulder Rag & Bone dress with Roger Vivier sandals